I am an inconsistent and infrequent cook. I have a lady who comes in and keeps us fed. I do step into the kitchen to occasionally make this and that. But whether it's for the seasoned (excuse the pun) cook or a sporadic one, certain things really help in making and bringing a meal together. We are featuring spices and condiments for the first time based on requests from our readers who wanted more posts about cooking and cooking implements. Read our earlier posts on cooking utensils here and here.
One particular type of spice that I use as a rub and a condiment is the Lemon Pepper flavour.
Lemon pepper (also called lemon pepper seasoning) is a seasoning made from granulated lemon zest and cracked black peppercorns. The lemon zest is mashed with the pepper to allow the citrus oil to infuse into the pepper.
This seasoning lends itself to not only Continental and Mediterranean cuisines, it goes quite well with the Indian fries and thicker curries which have fried veggies. Two brands that I've found to be very versatile wrt how they end up flavouring the food are Urban Platter and Doyen.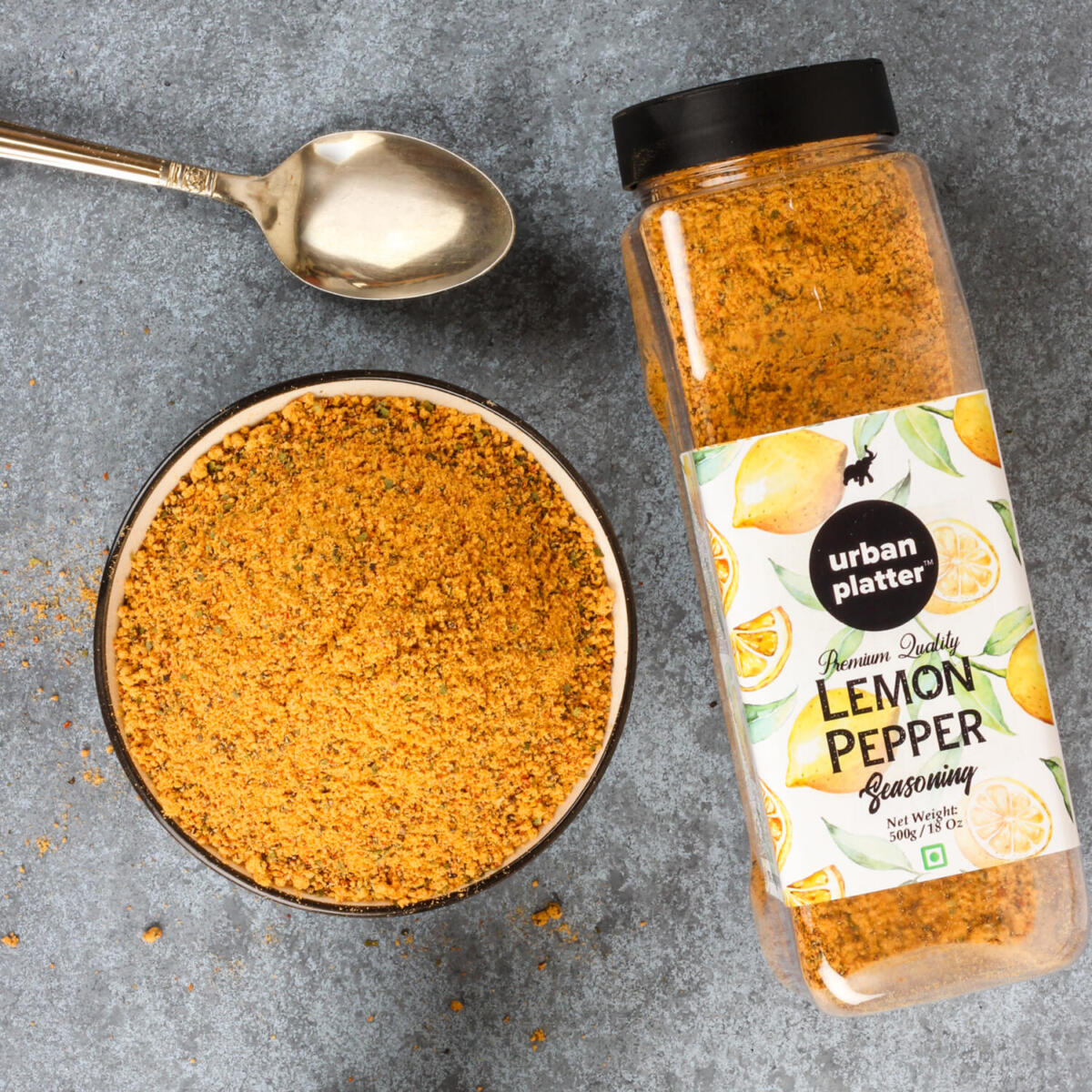 The Urban Platter prices start at Rs.195 for 100gms to Rs.425 for a 500 gms jar on Amazon. The midsized 200gms bottle is also available on Flipkart and the Urban Platter website.
I found it better to transfer the powder into a glass jar/bottle with a tight lid since plastic caps often lose their tight seal and moisture tends to make it clumpy. But even a smaller sized bottle will go a long way since one typically would need 1-2 teaspoons for a vegetarian dish and a little over one tablespoon for a meat dish.
The other brand, Doyen, has an added flavour to their lemon-pepper seasoning- garlic. And it works very well as a seasoning over a salad, or made into a paste to baste on grills and roasts.
Retailing at Rs.150 for 50 gms, this product is available on Amazon and the Doyen website and is a good spice mix to have at home because it lends itself well to the Indian flavours as well as Mediterranean and Continental ones.
So whether it's soups or salads, or lentils and curries, a good seasoning can go a long way in making a cook happy who in turn serves up better tasting meals.
Bon Apetit!