We were a bit slow to get on the SmartTv bandwagon. We had a HD tv where we plugged in our Chromecast, Firestick and which external hard disk (only the USB 2.0 variety) and that was fulfilling our needs. But families grow and sometimes more gadgets are a good way to ensure more people have the resources they need to keep busy and not have to get into a timeshare model for essential gadgets.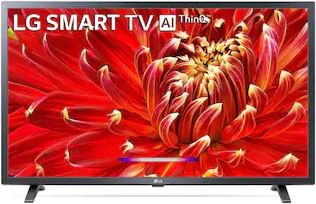 Enter the LG 32 inch Smart TV, more specifically the 32LM636BPTB. With built-in apps like Amazon Prime Video, Disney Hotstar, Netflix, Youtube, Voot and a whole bunch of other apps you can keep switching between.
With a voice-activated remote control and smart keys for the most popular streaming platforms, this lightweight telly also comes with with a tabletop option of being kept on the stand as shown in the image or being hung on the wall.
One of the best features of this t.v. is that while it's HD-ready and not fully HD (read about the difference here), the picture quality is such that you don't miss having a fully-HD model. The HD channels show up with a lot of clarity and one would really need to look very closely to spot the difference.
Another big plus for this tv is that apart from the overall ease of access an user-friendly features, it comes with Bluetooth and USB ports and is light enough to be set up anywhere as long as there's a good enough Wi-fi signal around. Its size doesn't prove to be a drawback if it's to be set up on a medium-sized stool or table instead of a proper t.v stand.
Retailing at the LG website for Rs.24,990 (click here to buy), this TV set is usually available for discounted amounts at the bigger electronic goods retailers like Reliance Digital, Bajaj Electronics et al along the major e-commerce websites. The prices vary from Rs.17,999 at Flipkart, to Rs.18,990 at Croma and Rs.20,800 at Amazon.
Whatever be the budget, whichever vendor delivers to your location- this tv is a good investment. Whether it's as an add-on telly in the house or as the primary tv in a more compact set-up. It scores high on the Value For Money (VFM) criterion and is very easy to set up start using. So where will you be watching your favourite programs next?